Are you always having to clean up the mess on the floor? Are you tired of how long it takes to clean up using a normal broom or dustpan? You could pull out a vacuum, but it'll be loud, you'll need to plug it in and deal with tangled cords, and it's just plain bulky and heavy to carry around! Order today and feel happy knowing you will forever have an easy, fast, money-saving, and fun way to clean.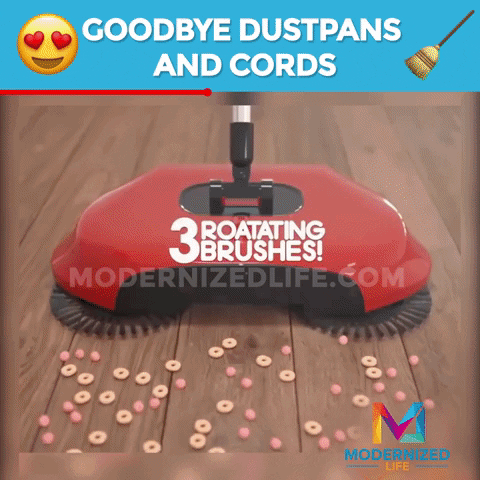 Our patented 360° Sweeper™ technology allows for a lightweight rotating sweeper that has the strong power of a vacuum, in the small form factor of a broom, WITHOUT needing any electricity, batteries, or cords! You will no longer need to hurt yourself bending over to sweep the mess, use a noisy vacuum, or get all tangled up with cords and cables.
Featuring our signature 3 spinning brush heads with a 360° rotational action, this broom sweeps and collects your dust and dirt with ease. It also features our built-in dustbin™ to keep the swept up debris contained and sealed. Light and easy to handle, you can clean floors with absolutely no effort using this. Imagine all the time, money, and hassle you will be saving!
Safe to use it on tile, marble, linoleum, hardwood, and carpet with absolutely no scuffing or scratching!
Uses our patented 3 rotating brushes design to sweep up the dirt and debris from your floor easily into the built-in dustpan
With the easily foldable handle, you can get to hard-to-reach places in no time
Simple to empty with a single move. Your house will be mess-free, and you'll be fuss-free!
 CLICK THE ORANGE "ADD TO CART" BUTTON ABOVE TO GET YOURS 
All Modernized Life™ orders are backed by a 60 day, 100% satisfaction guarantee. We will do whatever it takes to ensure your satisfaction. That is what being part of the Modernized Life™ family is like! We want the best experience for all of our over 200,000 loyal customers. Including you!