WHY DO YOU NEED A BATHROOM SAFETY RAIL?
Americans sustained nearly 540,000 bathroom injuries in 2018 alone, according to the CDC. 89.1% of those injuries were caused by falls. How many falls do you think were in or around the bathtub or shower? Of course, the correct answer would be nearly all. By adding one simple product - our Modernized Life Safety Rail with Anti-Slip™ technology - you can save your loved ones and yourself from unnecessary and very painful harm.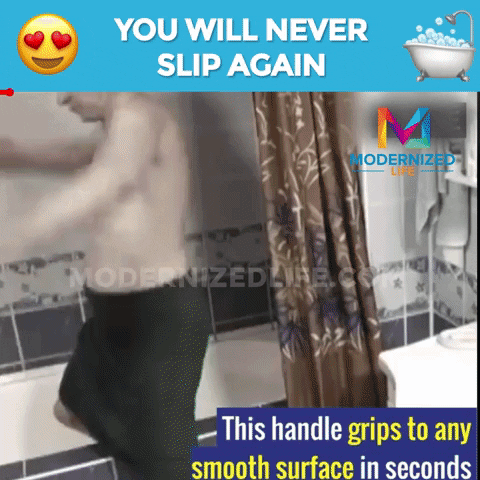 STABILITY THAT LASTS - With our patented locking latch technology, this grab bar can powerfully attach to any flat surface, such as TILE, ACRYLIC, GLASS & FIBERGLASS.
EASY, FAST, TOOL-FREE INSTALLATION - You will never need tools or drilling of any kind. It's as easy as flipping the locking latches to secure your bar in place.
NON-SLIP GRIP - Whether its arthritic hands who need a little help, or those tiny toddler mitts, our non-slip grip gives any user extra assistance by keeping the hands on the bar where they belong.
TRAVELS WITH YOU - Because our bath bar requires no permanent installation, you are free to take your Bathroom Safety Rail with you, wherever you travel. It fits nicely in any 12" x 4" x 4" space you can free up.
FAMILY SAFETY

 

- We back every product that we sell because we know how important it is to keep you and your family healthy.
Modernized Life Tips:
Flip switch down to lock and up to unlock.

Portable and great for travelling.

Not designed to hold the users wait for longer periods of time.

A helping hand for those who struggle to navigate themselves in the bathroom.
Perfect For:
Post surgery recovery

Seniors

Kids' bath time

Everyday convenience

Daily fall prevention

Shaving your legs
 CLICK THE ORANGE "ADD TO CART" BUTTON ABOVE TO GET YOURS 
.
All Modernized Life™ orders are backed by a 60 day, 100% satisfaction guarantee.

 We will do whatever it takes to ensure your satisfaction. That is what being part of the Modernized Life™ family is like! We want the best experience for all of our over 200,000 loyal customers. Including you!