Do you enjoy traveling or know someone else who does? This map poster is absolutely perfect for you! Personalize your own world by scratching off the places you've been to and be reminded of your happy memories the easy, fun, & creative way! It is truly a wonderful experience.
Designed in California, our large and high-quality copper coated map is 33" by 24" (82cm by 59cm), and is packaged in a sturdy protective cover during shipping. Additionally, it features a beautiful matte finish for easier scratching.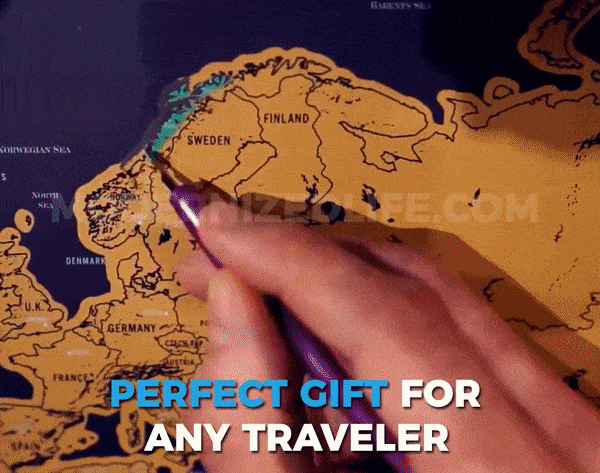 CLICK THE ORANGE "ADD TO CART" BUTTON ABOVE TO GET YOURS 
Perfect gift for any traveler – This Scratch-Off™ Personalized Travel Map Poster is a great gift for anyone who enjoys traveling and exploring. Buy it as a gift for Christmas, an anniversary, birthdays, and much more! Our products will always put a smile on their face.
This map serves as a great conversation starter for your home, office, or wherever you are. More importantly, it is a happy reminder of all your memories and stories from your past travels. Our map will encourage you to go out and find more amazing stories to share, as there are still a lot out there waiting for you!
Create a unique, personalized, and colorful record of your journeys by scratching off the top layer coating to record where you've been.
Accept no substitutes. Please beware of nasty or low-quality imitations. We strive hard to develop and produce products that we can be proud of, and every individual map must pass through a rigorous 11-step quality check before shipment. Only purchase original Modernized Life branded products directly from this licensed store to ensure a pleasant and reliable shopping experience.
  CLICK THE ORANGE "ADD TO CART" BUTTON ABOVE TO GET YOURS 
All Modernized Life™ orders are backed by our 60 day, risk-free, 100% satisfaction guarantee. If you don't have a positive experience for absolutely any reason, we will do whatever it takes to make sure you are 100% satisfied with your purchase. We want to provide a truly enjoyable experience for all of our over 200,000 loyal customers, including you!
 We donate a portion of all proceeds towards our long-time partnership with The Breast Cancer Research Foundation! You can make a positive difference today.